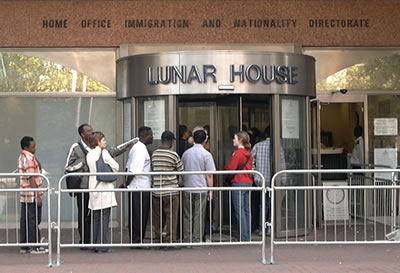 The snow flakes fell steady and gentle from the grey skies. The streets were devoid of the usual throng of people and cars. As I pushed on against the wind, my shoes cold and wet in the snow, I had an uneasy feeling about what lay ahead.
My client, Nazira (name changed) pushed her baby buggy along in the slush, her knuckles and hands going white from the cold. I gave her the extra pair of gloves I happened to have with me; their purple and black stripes adding a touch of the absurd to her otherwise sober dress –brown salwar kameez, a white jacket and a pale green shawl. I wondered how she managed to weather the cold in that.
We had travelled a long way across London to get to our destination -
Lunar House
- home to the offices of the
UK Border Agency
(UKBA). It is an uninviting place at the best of times and on this dark morning it rose up like a Castle of Doom.
I had to make the journey with Nazira to the UKBA because she didn't know how to navigate public transport in London. The plan was to accompany her into the building, as far as I was permitted and eventually leave her with an interpreter. Nazira's mission was to
claim asylum
in the UK because Pakistan was no longer safe for her.
I had written a research paper in college on immigration to the UK and the honest-to-God truth is that its policies seemed designed to keep out Blacks and Asians. Lunar House, I knew, had a very dusty 'Welcome' mat; the word barely discernible; trampled upon by the thousands who came each day, and who it seems were often only grudgingly given entry into the UK.
So I was actually quite curious about what it would be like inside this notorious and famous building.
I knew within 20 minutes.
Asylum seekers are directed to a separate floor and Nazira was escorted up in the lift by a staff member while I was asked to take the stairs. I met her upstairs and we went through another round of security screening. The UKBA had a nice assemblage of races on display. A South Asian male officer went through our bags while a Caucasian male chatted with two women – one Black, the other Caucasian. They were discussing dry skin and how to moisturize it in the winter.
At the end of the screening, I approached their desk because Nazira doesn't speak much English, and politely informed them that I was accompanying Nazira who wanted to make an asylum claim.
"Who are you?", the Black woman shot back.
"I'm her case worker from a voluntary organization."
"Do you have any identification?"
I didn't because I hadn't intended on staying with her. But since she asked me I showed her the only thing I had.
"I have a driver's license."
"Are you American?"
"No, I'm Indian."
At this point, the White woman, who had been standing like a boarding school matron to the left of the desk, felt the need to butt in.
"Do you have a work permit?"
"Yes."
"Hmm… strange. I wonder how that happened," she said, being unnecessarily sarcastic.
They don't like pesky representatives of asylum seekers because it forces them to be restrained. Not surprisingly, both women had it in for me. All veneer of professionalism was dropped and before me emerged two ordinary morons with extraordinary powers.
The Black woman said rudely, "I want you to stand back so that we can talk to her (Nazira)."
"Alright, but she needs an interpreter."
"Yeah, we'll have one but you go stand back. I don't like who you are."
I was outraged but unsure of how to respond to this verbal assault. I feared they would take it out on Nazira. But so stinging was the effect of her words that I laughed dramatically while repeating her words, saying, "You don't like who I am? Ha!"
However, with no ID, I was forced to step back and let Nazira take over.
She was given a shitty ride. They attacked her in their fluent English without calling an interpreter while she mumbled feeble responses to them in whatever English she could muster up. They discredited her story openly and eventually told her to go wait in a queue for an interview. I don't know what happened after that because the white male officer was dispatched to physically intimidate me into leaving the building.
Lunar House had spit me out in 20 minutes. The heat of my anger made me oblivious to the miserable cold outside. I walked back hotly to the train station to make the long journey back to the other side of town. It was as if all the adorable things about Britain – Marmite, Bobbies, double-deckers, Quality Street, Mini Coopers and afternoon teas – had all gone up in one big mushroom cloud of smoke.
One week later:
Nazira made her claim and will be called for an interview in January. My life is good and fine again and the perspective is back. They were two morons in a country of about 60 million.
Now where did I keep those chocolate Digestives?