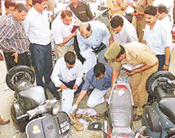 It's a post that has been floating around in my head for the last 10 days – ever since the Delhi blasts happened. Perhaps the events of that day have already faded from public memory but I think I need to get it out of head anyway.

This is primarily a rant against television news. I don't know how many of you felt the same irritation I experienced while watching television the following morning.

The reportage of the blasts was muddled, jingoistic and trivial all at once. I got more information out of watching 5 minutes of BBC World than I did out of watching 20 minutes of various Indian channels.

The first complaint is that this expression 'Dilhi dilwaalo ki' (loosely translated….Delhi – city with a heart) suddenly caught the fancy of reporters and interviewees alike. But it is so hopelessly out-of-sync with Delhi as we know it that it sounded only superficial - hardly creating a lump in the throat that it was perhaps expected to. Also, faced with such a unique situation, most people do respond humanely. And then the very next morning they go back to fighting with their neighbours over water and parking space. So were we really expected to buy this 'dilwalo ki' business?

The other triviality that was covered ad nauseam was the fact that shop-keepers around the blast sites had opened up the very next day for business. Reporters seemed to want us to believe that it was their resilience and their will to fight the terrorists that made them do so. But it sounded extremely insincere. Shoppers were interviewed and many of them said, "life goes on." Of course, "life does go on", but such banal philosophy on the morning of the blasts sounds insensitive not resilient.

To me, it seemed like these people were back on the streets simply because they knew that lightning does not strike in the same place twice or because of that old "It-will-not-happen-to-me" attitude. But, armed with heavy shopping bags, these shoppers were projected as some kind of exalted heroes at the forefront of the battle against terrorism.

The problem with 24-hour TV news is that it is an insatiable monster. So anything you feed it, it will eat. I can shrink the entire mornings coverage of the blasts in a few lines.

Shops around the blast sites have re-opened for business. Shop-keepers here say they are not going to be intimidated by the designs of a few terrorists. But it also happens to be one day before Diwali – the best time for business. And sure enough, the shoppers are back. Meanwhile, the death toll from last evenings blasts has gone up to xyz. A little-known group called so-and-so has claimed responsibility for the attacks and the Delhi police is investigating the organizations various other links. Raids have been conducted in 20 locations and x number of people have been arrested and interrogated.

8 lines. But on television somewhere between the barrage of useless, irrelevant un-information, we had to glean this hard kernel of real news.