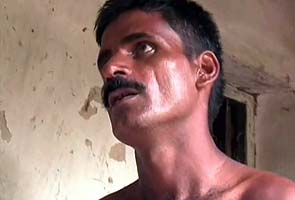 Shiladitya Chowdhury, arrested for asking questions.
Tilak Chowdhury has just had his worst Indian Independence Day.
His brother Shiladitya Chowdhury was arrested last week for asking West Bengal Chief Minister Mamata Banerjee a few uncomfortable questions about the rise in fertiliser prices at a public rally. In Mamata's version of democracy that is unacceptable and the poor man is now in jail. But it looks bad to imprison someone over a few questions and perhaps even Mamata knows that, so the "Maoist" label was quickly dusted off and pinned on him. Without the words "Maoist" and "terrorist" what would our police force do?
Tilak watched his brother being led away by the police bizarrely on live television. He and his family have been Mamata Banerjee's Trinamool Congress supporters for years but he said that this is not what he signed up for. "Is this our democracy where we're not even allowed to speak? We didn't want this" he said on the phone before bursting into tears.
"How can my brother be a "Maoist" when he has attended a CRPF masonry training? How would he have received a place if he was a "Maoist"? The CRPF or Central Reserve Police Force is primarily responsible for fighting insurgency in India. "They've said that my brother was screaming. There were 20,000 people in the crowd. He probably had to, to be heard!"
Tilak desperately needs solidarity in this struggle. When I asked him if other Trinamool workers in his village had come to offer moral support he despondently said that no one had said a thing. "I'm not asking anyone to lie. Just tell people the truth about my brother."
The police bungling and manipulation in all this is evident again. They arrested him from the public rally but finding nothing, released him. When Shiladitya gave an interview to a TV channel that evening they probably realised he could cause them and Mamata a PR disaster so they promptly came back and re-arrested him the next day, dragging him from his field without a shirt on his back.
What is really dangerous is the way in which the state machinery, the police and the courts have lined up to carry out every one of Mamata Banerjee's dictatorial whims. From purging libraries of critical newspapers to arresting professors for forwarding cartoons to now jailing farmers for inquiring about rising prices - the only positive element in all this is that she could be digging her own grave and faster the better.
Meanwhile Tilak wants his brother released and is hoping that people will join him in this struggle for his brother's freedom. You can sign his petition here.